WUFT-FM signed on as "Classic 89" at 3 p.m. on September 27, 1981.
Listen to Korbin McCoy, Sue Wagner and the late Ralph Lowenstein commemorate the anniversary in this audio clip that aired just after 3 p.m. on September 27, 2021.
Remarks from Late Dean Emeritus Ralph Lowenstein at the WUFT-FM dedication
Knight Courtyard, University of Florida College of Journalism and Communications
September 27, 1981 | 3 p.m.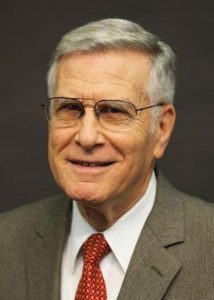 WUFT-FM will be the powerful voice of the University of Florida, serving our residents from the Gulf to the Atlantic, and from the Georgia line to the Leesburg latitude. It will serve all the other citizens of the state as they pass our sound umbrella on the state highways.
Victory has a thousand fathers; defeat has none. And since this is our day of victory, let it not pass without our mentioning some of the real fathers and mothers. Ken Christiansen and Mickie Edwardson of our broadcasting faculty long ago had the dream of this station, and they nurtured it for years. We used the research they had collected in our appeal to the federal and state governments. David Brugger, then on our college staff and now with CPB, used his professional genius and experience to get us huge federal grants of more than a half-million dollars.
And in Tigert Hall, UF President Bob Marston, Vice President Bryan and his associate Gene Hemp put all the muscle and will – and financing – of the university behind our effort. When it came to the capital showdown, Buddy McKay and Pete Skinner worked the Senate from desk to desk and pulled state funding form the jaws of the almost-certain rejection.
Representatives Jon Mills and Sid Martin carried the ball in the house; our own alumnus, Al Alsobrook, worked beyond the call of duty in our behalf in Tallahassee, and my colleagues, Dean Joe Sabatella and Dean Charles Sidman, gave their whole-hearted support and encouragement to the university's pursuit of this project.
Phil Emmer used his Tallahassee contacts to help get final approval from the Executive Branch, when no one else could. And, finally, Rick Lehner and Perry Echelberger of our staff took the funding and the concept and turned it into reality.
And just a few words about philosophy: a university and college of journalism are more than bricks and mortar and a place to train students for their first jobs. They are repositories of culture, of the arts, of beauty, of history. As you look around this courtyard, you will see a little of each. WUFT-FM is here to preserve and enhance that culture and share it with the citizens of our state.
So here it is – WUFT-FM. It is still an infant and it will grow to be magnificent. Welcome to our sound.
WUFT-FM Milestones
1981 – WUFT-FM signs on at 3 p.m. on September 27.
1990 – First "Fanfares & Fireworks" Independence Day Eve celebration.
1990 – WUFT-FM moves into the newly-completed Flanagan Wing of Weimer Hall.
1995 – WJUF-FM 90.1, Nature Coast 90, starts broadcasting as a WUFT-FM repeater station.
2006 – HD Radio broadcasting is launched.
2009 – NPR programming takes over the FM and HD 1 broadcasts. Classical music moves to HD 2
2011 – "Animal Airwaves" premieres.
2012 – The UF College of Journalism and Communications' Innovation News Center opens and becomes the home of WUFT-FM News.
Image Gallery