Subscribe to The Point, arriving in your inbox Monday through Friday at 8 a.m.
---
Hurricane Ian
• Florida Storms: Life-threatening storm surge possible as Major Hurricane Ian makes landfall Wednesday. "Storm surge flooding is forecast to be exacerbated by flooding from heavy rainfall, with the Weather Prediction Center placing a high risk for flash flooding from Daytona Beach to Orlando and Tampa on Wednesday. The risk for flooding is forecast to expand by Thursday, likely including places like Jacksonville and Gainesville. Rainfall from Hurricane Ian is expected to be highest from Jacksonville to Orlando, extending southwestward toward Tampa and Fort Myers. Rainfall estimates in these areas of between 10 and 20 inches are expected, with locally higher amounts possible."
• WUFT News: Live updates: Hurricane Ian on path toward Gulf Coast, north central Florida. We are updating this page frequently all week. Over the last 24 hours, it has updates about evacuations, cancellations, shelter openings and more.
• WUSF-Tampa: Ian expected to cause life-threatening storm surge, catastrophic winds and flooding. "Maximum sustained winds are near 120 mph with higher gusts, making Ian a category three hurricane. Strengthening is expected until it makes landfall."
• The Alligator: Alachua County under tropical storm watch, storm shelters open to public. "The Jacksonville National Weather Service predicts Alachua County will experience 58-74 mph wind speeds. The storm is expected to produce between 12 to 18 inches of rainfall through Thursday, according to the National Hurricane Center, with isolated totals up to 24 inches in Central and Northeast Florida."
• Mainstreet Daily News: BOCC issues non-mandatory evacuation order. "Although the predicted path for Hurricane Ian keeps shifting, the Alachua County Board of County Commissioners (BOCC) approved on Tuesday an evacuation order for residents living in mobile homes, manufactured homes, RVs and in other at-risk areas."
• WUFT News: Gainesville hotels shoulder influx of evacuees ahead of Hurricane Ian. "Many residents are not willing to stay home and see if those forecasts turn into reality. And numerous evacuees are seeking refuge in Gainesville, a city that lies both inland and further away from Ian's projected path."
• WUFT News: World Equestrian Center provides free shelter to 3,000 horses ahead of Hurricane Ian. "The largest equestrian complex in the nation opened its doors Tuesday to shelter more than 3,000 horses and other animals from Hurricane Ian – and they did it for free. As Hurricane Ian intensified and knocked on Florida's door, horse owners began arriving early in the morning to set up their animals in 25 barns across the center's 600 acres, according to Vinnie Card, operations manager of the World Equestrian Center. Since the center's schedule had plenty of open space in its barns, Card said, the facility was happy to take in animals in need of shelter."
• NPR News: Predicting Hurricane Ian's track has been difficult. An expert tells us why. "First off, there are very few 'easy' hurricanes to forecast and they're all different. The reason you need somebody monitoring them all the time, 24-7, 365, is because the atmosphere that they're in is constantly changing."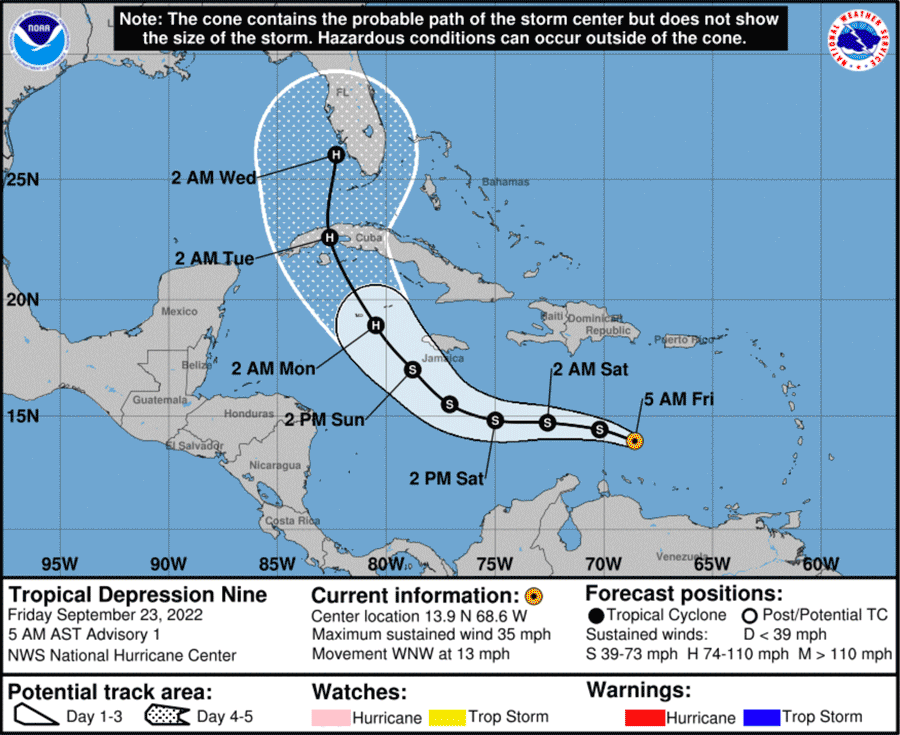 Credit: National Hurricane Center; animation by NPR
• WMFE-Orlando: Central Florida could see a direct hit from Hurricane Ian, as it crosses the state. "On Thursday afternoon, the eye of Ian — by then a tropical storm — could be over Orlando, according to the National Hurricane Center. But the impacts — high winds, prolonged flooding rains and, possibly, tornadoes — will likely have been pounding Central Florida for a full day by then."
• Bradenton Herald: It's not just storm surge: Ian's 'slow crawl' across FL could bring catastrophic rain. "After reaching the coast, Ian is expected to move at a sluggish pace across the peninsula, where it will dump extreme amounts of water — up to 24 inches in some areas."
• New York Times ($): Majority of Florida Public Schools Cancel Classes Ahead of Hurricane Ian. "More than 50 of the state's 76 school districts canceled classes, many through Friday, according to the Florida Department of Education, which continuously updated its list as school districts provided news. About 30 colleges and universities also said they would close their campuses and cancel classes."
• Citrus County Chronicle: Inverness hospital reminds residents facility is no shelter, but for the sick. "As Hurricane Ian makes its way to the Florida coast and Citrus County, hospital officials in Inverness are reassuring potential patients that HCA Florida Citrus Hospital will keep its doors open."
• Spectrum News: Family of nine makes decision to evacuate after moving into their home 3 days ago. "A surprise followed by disappointment after learning Hurricane Ian was fast approaching. This family admits they didn't actually know the hurricane was coming until a day ago."
• Politico: People built in harm's way. Here comes Ian. "Florida's densely populated, low-lying Gulf Coast offers a warning for other communities where development has expanded into territory vulnerable to climate-linked disasters like Hurricane Ian."
• Florida Politics: Hurricane Ian bears down on Florida election deadline. "County elections officials are required to send vote-by-mail ballots to voters between 40 days and 33 days before an election. This year, that window falls between this Thursday and the following Thursday and coincides with the estimated landfall of Hurricane Ian in Southwest Florida late Wednesday."
---
Today's sponsored message

---
The non-Ian stories near you
• WUFT News: Man mauled by police K-9 pleads not guilty to felony charges related to traffic stop that turned violent. "Despite (Terrell) Bradley's injury, prosecutors earlier this month formally charged Bradley with felony charges of carrying a concealed weapon, possessing a weapon as a convicted felon and battery on a police officer. Police said he intentionally pushed one of the officers as he fled the traffic stop. He is also charged with a misdemeanor of resisting arrest without violence."
• Mainstreet Daily News: Landlords voice opposition to city inspection program. "Some property owners are speaking out and even threatening a lawsuit over Gainesville's new rental permit program, which they say is violating rights and driving up rents. The pushback comes as the program nears its first anniversary next month. The city has continued to tweak the program, but critics say the changes are not enough to correct what they see as the program's flaws."
• WUFT News: Gainesville agribusinesses challenge the inflation struggle. "Due to the current economic crisis, prices on produce and products have not only increased in grocery stores but for specialty agribusinesses. These homegrown businesses have had to adapt to changes in production, sourcing, and their consumer engagement. Consumers now will see an increase in produce price on a local level while some specialty agribusinesses are concerned with their ability to continue under a pinch."
• WUFT News: Alachua County considers plan to partner with Newberry to establish new meat processing center. "Alachua County officials want to reorganize the county's food supply lines to be more locally based and independent by constructing the meat processing center in Newberry. Plans for the new facility originate from concerns about the nationwide supply chain issues that have occurred since the beginning of the COVID-19 pandemic."
---
From NPR News
• Business: Federal money is now headed to states for building up fast EV chargers on highways
• World: Seismologists suspect explosions damaged undersea pipelines that carry Russian gas
• World: Amid an energy crisis, Germany turns to the world's dirtiest fossil fuel
• Politics: Jan. 6 panel postpones public hearing due to Hurricane Ian
• National: In a big Jan. 6 case, Oath Keepers go on trial for seditious conspiracy
• Space: This is what NASA's spacecraft saw just seconds before slamming into an asteroid