The National Hurricane Center initiated advisories on Potential Tropical Cyclone Sixteen at 11 am Thursday, which is expected to make landfall in the Florida Panhandle early Saturday.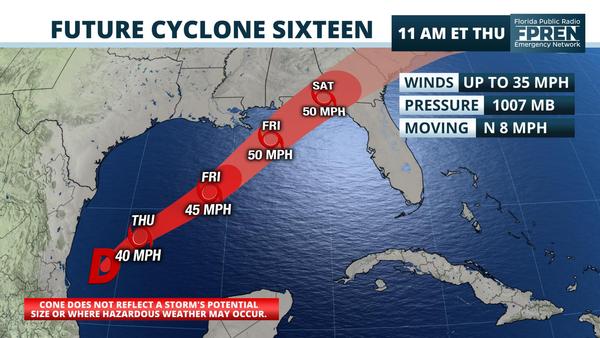 A Tropical Storm Warning was issued from the Alabama state line to Apalachicola. A Tropical Storm Watch was also issued for Florida's Big Bend and the Nature Coast. Tropical storm conditions are likely in the warned areas within 48 hours, and possible in the areas under the watch farther east.
The storm could also produce heavy rain, gusty winds and isolated tornadoes across a large portion of the pensinsula Friday night and Saturday.
The future tropical storm was producing a large area of showers and thunderstorms that were becoming better organized over the Bay of Campeche Thursday morning. The National Hurricane Center has requested assistance from the Air Force Reserve hurricane hunters Thursday afternoon to determine if it is acquiring tropical characteristics. Forecasters at the center have increased the probability of tropical or subtropical development to 80 percent, as of their 8 am Thursday tropical outlook.
Upper level winds are likely to steer Invest 96 to the northeast in the coming days, where warm sea surface temperatures could allow for further organization and strengthening. However, those same winds are also expected to produce wind shear that could limit the extent of intensification before it reaches land. Most of the reliable forecast models are in agreement that, at the very least, a strong area of low pressure will approach the northern Gulf Coast states by Saturday.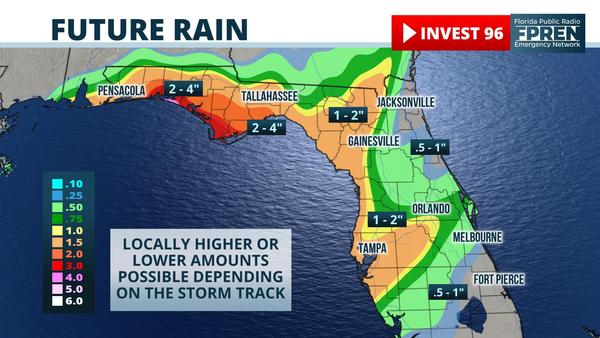 Heavy rain and gusty winds will be possible along and east of where Invest 96 comes ashore, regardless of whether it acquires tropical characteristics or is classified as a named storm. Isolated tornadoes or water spouts will also be possible east of its path where low-level spin and instability is present.
The first periods of rain could arrive along portions of the Emerald and Nature Coasts by Friday afternoon or early evening. A more widespread area of rain is likely to develop and move farther inland overnight, generally expanding in coverage to include most of the Florida Panhandle and north-central Florida by Saturday morning. Current forecast data suggests the heaviest bands of rain will set up somewhere between Panama City and Cedar Key as the center of Invest 96 nears the coast Saturday afternoon and evening. The system is then likely to move swiftly to the northeast, resulting in a gradual reduction in rainfall intensity and coverage by Sunday morning.
The timing of the rain over a weekend may be disappointing to some, but many Floridians will welcome it. A moderate drought has developed over the past few months along the I-10 corridor, which is actually where some of the heaviest rain may occur. Current forecast data suggests 2 to 4 inches of rain could fall in the Panhandle, with locally higher amounts possible. Some of the rainfall accumulations could come over a short period of time, making flash flooding possible, especially in poorly drained and low lying areas.
Meteorologists at the Florida Public Radio Emergency Network will continue to monitor the system and provided updates as necessary. Stay up to date with forecasts and alerts for your area by downloading the Florida Storms App, available for both iOS and Android.